Medal of Honor Nominees Portrayed On Film

Rejected Nominations
GUY LOUIS GABALDON (1926-2006)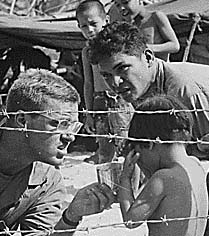 Rank, duty position and unit at time of action:
Private First Class, V Amphibious Corps, US Marine Corps
War:
World War II
Place and date of action:
Saipan, Marianas Islands, July 1944
Portrayed by:
Jeffrey Hunter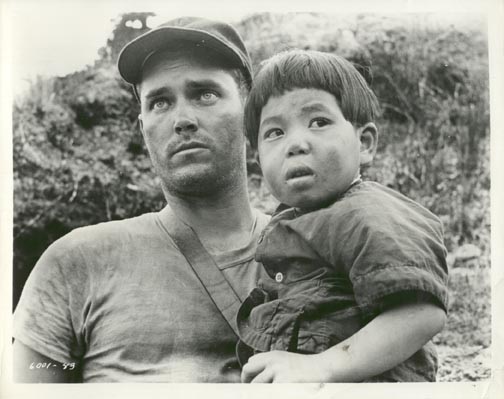 In the film:
Hell to Eternity (1960)
---
Text of Citation:
[Excerpts] PFC Gabaldon entered enemy positions in caves, pillboxes, buildings and jungle brush and, in the face of direct enemy fire, obtained vital information and aided in the capture of over one thousand enemy civilians and enemy personnel. Working alone in front of the lines, he contributed materially to the success of the campaign and through his efforts, a definite humane treatment of prisoners was insured..... The weakened Japanese soldiers had been commanded to fight to the last man by their officers, but Gabaldon persuaded them to surrender.
---
Remarks
Hell to Eternity tells the story of Guy Gabaldon, a Chicano youth from Los Angeles who was orphaned as a young boy and raised by a family of Japanese ancestry (Nisei), thus becoming fluent in Japanese as he grew up. At the outbreak of of World War II, his foster family was interned along with most Nisei from the West Coast; his foster brothers were then allowed to enlist in the Army and fought in Europe with the all-Nisei 442nd Regimental Combat Team, while his foster parents and foster sister continued to be interned until late 1944 when the Nisei were released. Gabaldon enlisted in the Marine Corps and, because of his fluency in Japanese, was placed in Intelligence.
As was the case with virtually all the fighting in the Pacific and East Asia, Japanese defenders in the Marianas campaign fought to the death or committed suicide en masse, civilian women and children included, rather than surrendering to the advancing American forces, resulting in an extremely small percentage of the Japanese defenders being captured alive. After the landing on Saipan, Gabaldon began venturing from his headquarters duties and singlehandedly visiting the front lines where he proved himself to be quite adept at persuading large pockets of Japanese to surrender, by convincing them that they were surrounded and reassuring them that that they would be treated humanely. He was initially admonished and threatened with court-martial for leaving his duties, but it soon became obvious that his actions resulted in a significant reduction in casualties on both sides, and he was given a free rein at the front. His sorties continued to yield larger and larger groups of prisoners, his most successful venture on July 8, 1944 bringing in a mob of over 800 prisoners, for a total of over 1500 over a few days. He continued his exploits, earning the nickname of "The Pied Piper of Saipan", until he was wounded in a machine gun ambush and evacuated to the rear. He returned to Saipan to live after the war.
The film, which ends before his wounding, took a considerable amount of dramatic license in its climax, with Gabaldon capturing the Japanese commanding general and convincing him to talk his troops into surrendering before the general commits hara-kiri. (The Japanese commanding general did, in fact, commit hara-kiri upon losing the battle, but there is no indication in the records that Gabaldon ever encountered him face-to-face.)
Gabaldon was recommended by his superiors for the Medal of Honor with the well-founded justification that he singlehandedly captured more than ten times the number of prisoners taken by Alvin C. York in World War I. The Marine Corps initially downgraded the award to a Silver Star and then, coincident with the release of Hell to Eternity, upgraded it to a Navy Cross. After lobbying by the Hispanic community, the case is currently under review by the Department of Defense to be again upgraded to the original recommendation.