Medal of Honor Recipients Portrayed On Film

Classic Heroism
JONATHAN MAYHEW WAINWRIGHT
(1883-1953)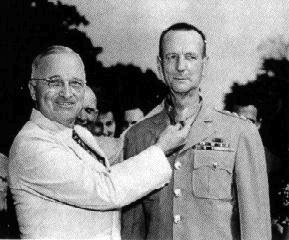 (Pictured receiving his MoH from President Harry S Truman)
Rank, duty position and unit at time of action:
Major General, Commanding General of North Luzon Force, then succeeded MacArthur as commander of all US and Philippine Armed Forces in the Philippines.
War:
World War II
Place and date of action:
Philippines, 8 December 1941-7 May 1942
Portrayed by:
Sandy Kenyon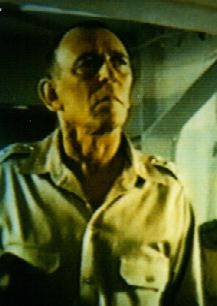 In the film:
MacArthur (1977)
---
Text of Citation:
WAINWRIGHT, JONATHAN M.
Rank and organization: General, Commanding U.S. Army Forces in the Philippines. Place and date: Philippine Islands, 12 March to 7 May 1942. Entered service at: Skaneateles, N.Y. Birth: Walla Walla, Wash. G.O. No.: 80, 19 September 1945. Citation: Distinguished himself by intrepid and determined leadership against greatly superior enemy forces. At the repeated risk of life above and beyond the call of duty in his position, he frequented the firing line of his troops where his presence provided the example and incentive that helped make the gallant efforts of these men possible. The final stand on beleaguered Corregidor, for which he was in an important measure personally responsible, commanded the admiration of the Nation's allies. It reflected the high morale of American arms in the face of overwhelming odds. His courage and resolution were a vitally needed inspiration to the then sorely pressed freedom-loving peoples of the world.
---
Remarks:
Wainwright succeeded Douglas MacArthur in command of the American and Filipino forces when the latter was ordered to Australia by President Roosevelt to reorganize the Allied theater forces. He also, like MacArthur, received the Medal of Honor for gallantry in leading his forces through some of the most bitter and desperate combat in world military history at the Bataan peninsula and Corregidor Island, slaughtering cavalry horses for food and surrendering only when it became obvious that no relief was even enroute. A prisoner of war for 3 1/2 years, he considered himself a failure until the very moment when, on a visit to the White House on his return home, President Truman ushered him into the Rose Garden before reporters and photographers and hung the medal around his neck.
Wainwright's ordeal and the circumstances behind his award added much depth to the film MacArthur. Like that of the main subject of the film, discussed elsewhere on this website, it was a case which made for good psychological drama rather than battlefield heroics. As the film depicts, MacArthur initially opposed Wainwright's Medal of Honor due to the fact that he had surrendered, and yet the reunion of the two men aboard the battleship USS Missouri in Tokyo Bay during the Japanese surrender ceremony, and then MacArthur summoning Wainwright and his British counterpart from Malaysia to stand behind him as he signs the surrender treaty, makes for one of the more poignant moments of the film as well as in history.
Wainwright was also briefly depicted, during the time of his Medal of Honor action, by John Miljan in the fictional 1945 John Wayne film Back to Bataan.