History, Legend and Myth:
Hollywood and the Medal of Honor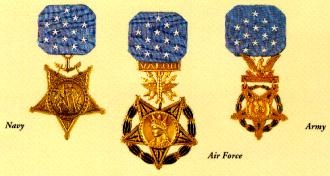 Notable Fiction
There have been a number of fictional depictions of Medal of Honor-earning actions in other movies. While the bulk of those are completely dramatic fabrications, a few warrant discussion on this website.
---
They Were Expendable (1945)
They Were Expendable was loosely based on the Medal of Honor-earning actions of Navy Lieutenant John D. Bulkeley, commander of the PT-boat squadron at Cavite, Philippines at the start of World War II. His citation reads as follows:
*************
BULKELEY, JOHN DUNCAN
Rank and organization: Lieutenant Commander, Commander of Motor Torpedo Boat Squadron 3, U.S. Navy. Place and date: Philippine waters, 7 December 1941 to 10 April 1942. Entered service at: Texas. Born: 19 August 1911, New York, N.Y. Other awards: Navy Cross, Distinguished Service Cross, Silver Star, Legion of Merit. Citation: For extraordinary heroism, distinguished service, and conspicuous gallantry above and beyond the call of duty as commander of Motor Torpedo Boat Squadron 3, in Philippine waters during the period 7 December 1941 to 10 April 1942. The remarkable achievement of Lt. Comdr. Bulkeley's command in damaging or destroying a notable number of Japanese enemy planes, surface combatant and merchant ships, and in dispersing landing parties and land-based enemy forces during the 4 months and 8 days of operation without benefit of repairs, overhaul, or maintenance facilities for his squadron, is believed to be without precedent in this type of warfare. His dynamic forcefulness and daring in offensive action, his brilliantly planned and skillfully executed attacks, supplemented by a unique resourcefulness and ingenuity, characterize him as an outstanding leader of men and a gallant and intrepid seaman. These qualities coupled with a complete disregard for his own personal safety reflect great credit upon him and the Naval Service .
*************
Robert Montgomery (a real-life Navy World War II veteran) played the thinly-disguised "Lieutenant John Brickley". While a large portion of the story is devoted to an ill-fated romance between Brickley's executive officer (played by John Wayne) and an Army nurse (played by Donna Reed), the film nevertheless manages to capture the desperation of Bulkeley's real-life squadron as they fought to hold off and then harass the Japanese invasion forces while suffering crippling losses and dwindling supplies.
Bulkeley was also played in the film MacArthur by William Wellman Jr., although the particular action depicted (running General MacArthur and his family through the Japanese blockade) was only a small part of the many other valorous actions for which he was cited for his Medal of Honor.
---
Battle Stations (1956)
Battle Stations was a fictionalized account of the real-life saga of the World War II aircraft carrier USS Franklin and the severe damage and casualties it sustained when struck by a Japanese kamikaze plane off the coast of the Japanese mainland in March 1945. The chaplain of the "Big Ben", Father (Lt Commander) Joseph T. O'Callahan, received the Medal of Honor for risking his life on several occasions in rescuing his shipmates, fighting the fires and disposing of unexploded ordnance in the carnage of the attack. His citation reads as follows:
*************
O'CALLAHAN, JOSEPH TIMOTHY
Rank and organization: Commander (Chaplain Corps), U.S. Naval Reserve, U.S.S. Franklin. Place and date: Near Kobe, Japan, 19 March 1945. Entered service at: Massachusetts. Born: 14 May 1904, Boston, Mass. Citation: For conspicuous gallantry and intrepidity at the risk of his life above and beyond the call of duty while serving as chaplain on board the U.S.S. Franklin when that vessel was fiercely attacked by enemy Japanese aircraft during offensive operations near Kobe, Japan, on 19 March 1945. A valiant and forceful leader, calmly braving the perilous barriers of flame and twisted metal to aid his men and his ship, Lt. Comdr. O'Callahan groped his way through smoke-filled corridors to the open flight deck and into the midst of violently exploding bombs, shells, rockets, and other armament. With the ship rocked by incessant explosions, with debris and fragments raining down and fires raging in ever-increasing fury, he ministered to the wounded and dying, comforting and encouraging men of all faiths; he organized and led firefighting crews into the blazing inferno on the flight deck; he directed the jettisoning of live ammunition and the flooding of the magazine; he manned a hose to cool hot, armed bombs rolling dangerously on the listing deck, continuing his efforts, despite searing, suffocating smoke which forced men to fall back gasping and imperiled others who replaced them. Serving with courage, fortitude, and deep spiritual strength, Lt. Comdr. O'Callahan inspired the gallant officers and men of the Franklin to fight heroically and with profound faith in the face of almost certain death and to return their stricken ship to port.
*************
Father O'Callahan's movie counterpart, "Father Joe McIntyre", was played by John Lund in the film.
---
First to Fight (1967)
First to Fight starred Chad Everett as fictional Marine Corps Platoon Sergeant Jack Connell, whose experiences on Guadalcanal were based on those of Platoon Sergeant Mitchell Paige; Paige's citation reads as follows:
*************
PAIGE, MITCHELL
Rank and organization: Platoon Sergeant, U.S. Marine Corps. Place and date: Solomon Islands, 26 October 1942. Entered service at: Pennsylvania. Born: 31 August 1918, Charleroi, Pa. Citation: For extraordinary heroism and conspicuous gallantry in action above and beyond the call of duty while serving with a company of marines in combat against enemy Japanese forces in the Solomon Islands on 26 October 1942. When the enemy broke through the line directly in front of his position, P/Sgt. Paige, commanding a machinegun section with fearless determination, continued to direct the fire of his gunners until all his men were either killed or wounded. Alone, against the deadly hail of Japanese shells, he fought with his gun and when it was destroyed, took over another, moving from gun to gun, never ceasing his withering fire against the advancing hordes until reinforcements finally arrived. Then, forming a new line, he dauntlessly and aggressively led a bayonet charge, driving the enemy back and preventing a breakthrough in our lines. His great personal valor and unyielding devotion to duty were in keeping with the highest traditions of the U.S. Naval Service.
*************
The film begins with Connell experiencing an ordeal quite faithful to Paige's above citation. The remainder of the film follows Connell as he receives a battlefield commission as a Second Lieutenant, receives the Medal of Honor from President Franklin D. Roosevelt at the White House, then follows his adjustment to his new status as a hero (and a newlywed) with an assignment stateside, and his eventually volunteering to return to combat. Our research has been unable to determine how faithful those portions of the film were to the real-life story of Mitchell Paige, but we do know that Mitchell Paige is alive and well and living in Southern California as of this writing, and was recently given another honor: the release of a GI Joe action figure in his image.
---
The Wild Blue Yonder (1951)
This was a rather difficult film to categorize for this website, as it was an almost entirely fictional movie, but depicted the real-life Medal of Honor-earning action of Henry E. "Red" Erwin, whose citation reads as follows:
*************
ERWIN, HENRY E. (Air Mission)
Rank and organization: Staff Sergeant, U.S. Army Air Corps, 52d Bombardment Squadron, 29th Bombardment Group, 20th Air Force. Place and date: Koriyama, Japan, 12 April 1945. Entered service at: Bessemer, Ala. Born: 8 May 1921, Adamsville, Ala. G.O. No.: 44, 6 June 1945. Citation: He was the radio operator of a B-29 airplane leading a group formation to attack Koriyama, Japan. He was charged with the additional duty of dropping phosphoresce smoke bombs to aid in assembling the group when the launching point was reached. Upon entering the assembly area, aircraft fire and enemy fighter opposition was encountered. Among the phosphoresce bombs launched by S/Sgt. Erwin, 1 proved faulty, exploding in the launching chute, and shot back into the interior of the aircraft, striking him in the face. The burning phosphoresce obliterated his nose and completely blinded him. Smoke filled the plane, obscuring the vision of the pilot. S/Sgt. Erwin realized that the aircraft and crew would be lost if the burning bomb remained in the plane. Without regard for his own safety, he picked it up and feeling his way, instinctively, crawled around the gun turret and headed for the copilot's window. He found the navigator's table obstructing his passage. Grasping the burning bomb between his forearm and body, he unleashed the spring lock and raised the table. Struggling through the narrow passage he stumbled forward into the smoke-filled pilot's compartment. Groping with his burning hands, he located the window and threw the bomb out. Completely aflame, he fell back upon the floor. The smoke cleared, the pilot, at 300 feet, pulled the plane out of its dive. S/Sgt. Erwin's gallantry and heroism above and beyond the call of duty saved the lives of his comrades.
*************
David Sharpe played Red Erwin in what was essentially a "cameo appearance"; the incident, while shown in what was probably close to "real time", lasted only a few seconds, far less time than it takes most people to read the above citation. Not depicted was his long and excruciating recovery and 43 operations to rebuild his face after losing an eye, an ear and his nose, as well as several fingers.
The movie itself was a fictionalized depiction of B-29 Superfortress bomber operations against the Japanese mainland, with the typical, nearly obligatory, 1940s/1950s war movie love triangle among the fictional main characters (played by Forrest Tucker, Wendell Corey and Vera Ralston). This unfortunately leaves Red Erwin in a Twilight Zone of sorts where his entire action is depicted but does not comprise a significant portion of the movie. A hero of his valor and stature deserves much better.
---
Twelve O'Clock High (1949)
As mentioned in the Introduction page, this film was based on several real-life historical events about US Army Air Force heavy bomber daylight operations in the European Theater of Operations in World War II, with fictionalized character names. The central character, Brigadier General Frank Savage (played by Gregory Peck) appears to be a composite of Brigadier Generals Frederick W. Castle (a posthumous Medal of Honor recipient, although his actions were not depicted or referenced in the film) and Frank Armstrong, and another B-17 Flying Fortress group commander whose name has apparently been lost to history who, like Savage, suffered a nervous breakdown from the stress of sending men into combat.
The focus of this entry, however, is the character of 2nd Lieutenant Jesse Bishop (played by Robert Patten). The authors had always figured that the fictional Lt Bishop's actions had been based on a real-life incident, but had never been able to cross reference it against the hundreds of World War II MoH citations until it was pointed out to us by a visitor to this website that Bishop's actions were based on those of 2nd Lieutenant John Cary Morgan, whose citation reads as follows:
*************
MORGAN, JOHN C. (Air Mission)
Rank and organization: Second Lieutenant, U.S. Army Air Corps, 326th Bomber Squadron, 92d Bomber Group. Place and date: Over Europe, 28 July 1943. Entered service at: London, England. Born: 24 August 1914, Vernon, Tex. G.O. No.: 85, 17 December 1943. Citation: For conspicuous gallantry and intrepidity above and beyond the call of duty, while participating on a bombing mission over enemy-occupied continental Europe, 28 July 1943. Prior to reaching the German coast on the way to the target, the B17 airplane in which 2d Lt. Morgan was serving as copilot was attacked by a large force of enemy fighters, during which the oxygen system to the tail, waist, and radio gun positions was knocked out. A frontal attack placed a cannon shell through the windshield, totally shattering it, and the pilot's skull was split open by a .303 caliber shell, leaving him in a crazed condition. The pilot fell over the steering wheel, tightly clamping his arms around it. 2d Lt. Morgan at once grasped the controls from his side and, by sheer strength, pulled the airplane back into formation despite the frantic struggles of the semiconscious pilot. The interphone had been destroyed, rendering it impossible to call for help. At this time the top turret gunner fell to the floor and down through the hatch with his arm shot off at the shoulder and a gaping wound in his side. The waist, tail, and radio gunners had lost consciousness from lack of oxygen and, hearing no fire from their guns, the copilot believed they had bailed out. The wounded pilot still offered desperate resistance in his crazed attempts to fly the airplane. There remained the prospect of flying to and over the target and back to a friendly base wholly unassisted. In the face of this desperate situation, 2d Lt. Officer Morgan made his decision to continue the flight and protect any members of the crew who might still be in the ship and for 2 hours he flew in formation with one hand at the controls and the other holding off the struggling pilot before the navigator entered the steering compartment and relieved the situation. The miraculous and heroic performance of 2d Lt. Morgan on this occasion resulted in the successful completion of a vital bombing mission and the safe return of his airplane and crew.
*************
In actuality, most of the details mentioned of the mission in the movie were quite accurate beyond those of Morgan's MoH citation, including one crewman losing his arm and the rest of the crew deciding to have him bail out as they were unable to put a tourniquet around the stump of his arm. Morgan was also shot down on a subsequent mission and MIA like Bishop. (He was captured, spent over a year as a POW, returned to civilian life in Texas after the war, and then later on was recalled for the Korean War.)
A problem that arises is that, while there is repeated mention and reference in the movie to Bishop's actions, they're never actually shown in the movie; the heart of the movie (i.e. group adjutant Lt Col Harvey Stovall's flashback as he returns to Archbury airfield a few years after the war) begins with the belly landing of Bishop's B-17 at the end of the mission, with the details of the crew's ordeal and Bishop's actions being recounted in debrief. (A minor detail is that Morgan actually held the warrant rank of Flight Officer at the time, and was commissioned later. It is also unclear as to whether he actually had to belly in the B-17 as depicted or made a normal wheels-down landing.) If this had been a straight nonfiction film using Morgan's real name, it would at first glance have fallen under the category of a "Blown Opportunity" by our own internal guidelines. However, upon closer look at the literally gory details of this incident, with the back of the Aircraft Commander's skull being blown open and his blood spraying all over the cockpit while he remained alive but crazed, and the Flight Engineer losing his arm and having to bail out in order for his life to be saved, the action would have been far too gory and intense to be shown onscreen by the moviemaking standards of 1949. Of course, in the present-day post-Saving Private Ryan world, nobody would give the goriness a second thought and it would actually be relatively quite tame.
---
Operation Pacific (1951)
In this film, Ward Bond played Commander John T. "Pop" Perry, skipper of the submarine USS Thunderfish, and his self-sacrificing actions in battle were based on those of Commander Howard W. Gilmore, skipper of the USS Growler, in the Pacific Theater during World War II:
*************
*GILMORE, HOWARD WALTER
Rank and organization: Commander, U.S. Navy. Born: 29 September 1902, Selma, Ala. Appointed from: Louisiana. Other Navy award: Navy Cross with one gold star. Citation: For distinguished gallantry and valor above and beyond the call of duty as commanding officer of the U.S.S. Growler during her Fourth War Patrol in the Southwest Pacific from 10 January to 7 February 1943. Boldly striking at the enemy in spite of continuous hostile air and antisubmarine patrols, Comdr. Gilmore sank one Japanese freighter and damaged another by torpedo fire, successfully evading severe depth charges following each attack. In the darkness of night on 7 February, an enemy gunboat closed range and prepared to ram the Growler. Comdr. Gilmore daringly maneuvered to avoid the crash and rammed the attacker instead, ripping into her port side at 11 knots and bursting wide her plates. In the terrific fire of the sinking gunboat's heavy machineguns, Comdr. Gilmore calmly gave the order to clear the bridge, and refusing safety for himself, remained on deck while his men preceded him below. Struck down by the fusillade of bullets and having done his utmost against the enemy, in his final living moments, Comdr. Gilmore gave his last order to the officer of the deck, "Take her down." The Growler dived; seriously damaged but under control, she was brought safely to port by her well-trained crew inspired by the courageous fighting spirit of their dead captain.
*************
This is, incidentally, the second film (after They Were Expendable, referenced above) in which John Wayne played a naval officer in the Pacific Theater during World War II, who was executive officer to a commanding officer who was based on a real-life Medal of Honor recipient. In this film, the heroic action is resequenced and divided between Ward Bond and John Wayne, with Wayne's character, Lt Cdr Duke Gifford, resurfacing to ram and sink the Japanese ship after "Pop" Perry's death, whereas in real life, Gilmore himself directed the ramming and was wounded in the subsequent burst of enemy gunfire.
Once again, the authors are indebted to a visitor to this site for bringing to our attention the eligibility of this film for an entry in this category. The actions for which Howard Gilmore received a posthumous Medal of Honor were covered in the Medal of Honor special publication by US News and World Report cited on our Bibliography page. Somewhat conversely to the previous entry on Twelve O'Clock High (where we were familiar with the film but couldn't cross-reference the real-life citation and MoH recipient), in this case we recognized Gilmore's actions as having been depicted in a fictionalized film, but the truth is that throughout the 1940s, '50s and '60s, there were many movies about USN submarine operations in the Pacific Theater (Run Silent, Run Deep; Destination Tokyo; Torpedo Run; Hellcats of the Navy; and Submarine Command to name a few of the others) and they all tended to blur together.

Gilmore was also portrayed by Ken Curtis in a 21-minute 1958 short-subject film, The Growler Story, which was part of a series of US Navy training films on leadership directed by Naval Reserve Rear Admiral John Ford (also Curtis's father-in-law). Ward Bond also appeared in this film, this time as the Chief of Boat (senior NCO), Bond and Curtis being members of the "John Ford Stock Company" of actors. As the short-subject was produced by the Department of the Navy, it was never released commercially and is not listed on the Internet Movie Database, although it turns up occasionally on the Military History channel as part of its Battleground series, and is available on YouTube via the above link.

---
The two most recent feature films which included a fictional Medal of Honor action warrant some mention, each for different reasons:
---
Forrest Gump (1994)
Among the many allegorical experiences of Tom Hanks' title role in Forrest Gump was his earning the Medal of Honor in Vietnam for pulling several wounded members of his platoon out of the line of fire to safety while wounded himself. It is worth mentioning that Gump's actions appear to be typical of a number of real-life Medal of Honor actions, several of which occurred in Vietnam, but also occurred as far back as the Spanish-American War and in all other wars in between. [As a couple of old F-4 Phantom jocks, however, the authors found it amusing how, in the same scene depicting the MoH action, the flight of Phantoms supporting Gump's platoon delivered their load of napalm in the form of forward-firing rocket ordnance rather than in free-falling canisters, the only form either of us have ever heard of!]
Incidentally, according to the novelization of the screenplay to Tom Hanks' more recent war movie, Saving Private Ryan (1998), Hanks' character Captain John Miller was supposed to have received a posthumous Medal of Honor for the fictional actions depicted (a plausible occurrence in the opinions of the authors), but apparently any references to such ended up on the cutting room floor.
---
Courage Under Fire (1996)
Courage Under Fire starred Meg Ryan as a female Army Medevac helicopter pilot in the Persian Gulf War who first bombs an Iraqi tank by turning an auxiliary fuel bladder into a Molotov cocktail and then, after getting shot down and mortally wounded, holds off an entire company of Iraqi infantry with an M-16 rifle to save her crew. This film led to the following E-Mail inquiry from a visitor to this website:
"I am doing a research project for my US History class. We were given a movie to view and then determine its historical accuracy. My movie was"Courage Under Fire" and I'm wondering if there is any basis to the movies [sic] main theme that a Captain Karen Walden recieved [sic] the medal of honor for here [sic] service in the Gulf War? Thank you for your help."
After howling hysterically (collectively by long-distance telephone), the authors fought the temptation to reply sarcastically with "Yes, absolutely! The Karen Walden Page to our website is under construction as we speak...." and politely pointed out to this individual that he was asking us to do his project for him. We then pointed out the facts to him: one female Army helicopter pilot was killed in the Persian Gulf War, in the crash of a noncombatant Chinook cargo helicopter in a non-combat-related accident outside the combat zone after the ceasefire; and there have been no Medals of Honor awarded to anybody for the Persian Gulf War as of this writing.
How this aircraft accident was transformed into the politically correct "saga of Karen Walden" is less perplexing once the reader is made aware that Courage Under Fire was directed by Edward Zwick, the same individual who directed Glory. As we mention in our entry on Sergeant William H. Carney, the production crew of Glory, in their binge of anachronistic political correctness and revisionist history (behind the mask of authenticity lent by several Civil War reenactors), clearly had no qualms about obliterating the real-life story of the first black soldier to earn the Medal of Honor. The double whammy against the brotherhood of Medal of Honor recipients, on the part of Mr. Zwick and his cohorts, nearly earned Courage Under Fire a separate entry on this website under the "Hollywood Abominations" category.
---